Serves 60 counties across central and southern Illinois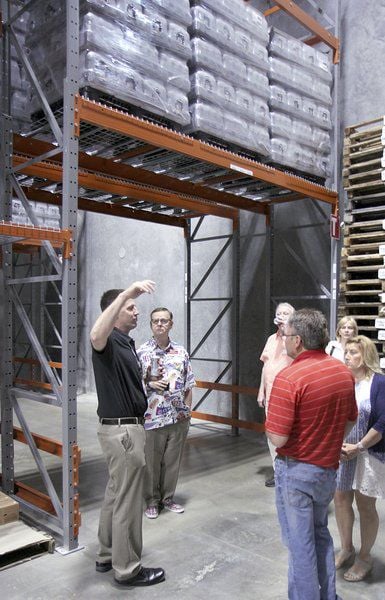 One of the largest buildings in the City of Effingham is open for operation. Koerner Distributor Inc. held its grand opening on Friday night.
The building at 1601 Pike Ave. brings together operations for the beer, wine and spirits distribution company that were previously at three different locations and serves as the center for an operation that serves 60 central and southern Illinois counties.
President and CEO Paul Koerner said the new building is part of a "transformation of Koerner Distributor."
"This building facilitates the ability to make those changes," Koerner said.
It occupies a total of 140,000 square feet, with 18,000 devoted to office space.
The company has prepared for the expansion for 10 years, said Dean Kremer, the company's chief financial officer. That includes space for additional loading docks and empty spaces on the storage shelves for new products.
They currently carry 4,500 different products, which includes different brands and different capacities.
Kremer explained that a 24-pack of cans, 6-pack of bottles and keg of the same product would all use different tracking numbers.
The new facility has also added automation, said Kremer.
Part of that is an automated system that works to make pallets of various products. Their top ten sellers are staged next to a loader that takes entire layers of product off and stacks it on a new pallet, based on a customer's order.
This is more efficient than the older system, Kremer said, where employees had to move every box of products. Manual labor is still required to finish off shipments, he said.
The facility also includes a cooler that keeps alcohol at 38 degrees. Kremer said this important for some companies, particularly craft brewers, who require their products to remain at a consistent temperature.
The warehouse dominates the floor plan of the building, but the facility includes office space, a print shop and a large meeting room for sales staff and community members.
Reducing the three different locations to one will reduce costs, said Kremer, but eliminating duplication at the various locations.
The company was started when Carl Jr., and Carolyn Koerner bought part of Jul Fischer Distributor's operation and renamed it, beginning operation as a family-owned business in 1982.
The official groundbreaking was on April 13, 2017.
The expansion came in part from the city council providing a land swap and a job creation grant for not more than $350,000.
Graham Milldrum can be reached at 217-347-7151 ext. 131 or by email at graham.milldrum@effinghamdailynews.com